A Wrinkle Iron to smooth out skin so you look younger?
So, if you thought that turning back time was something that happened in fairy tales or only to those who went under the proverbial knife, then think again. These galvanic spa systems literally turn back time after just one use.
You are your best research, so if want to be sure something works, use it on one side of you body and compare. The galvanic facial spa and the galvanic body spa give immediate results and you can see the difference after one application. But, like anything, for sustained results you need to keep using it 2 or 3 times a week.
Galvanic instruments use electric charges to facilitate the transport of key ingredients into the skin. So, if you are using lotions and potions with anti-ageing ingredients, a galvanic spa treatment will turbo-charge delivery meaning a more youthful looking you more quickly.
We're not the only ones talking about these little miracle workers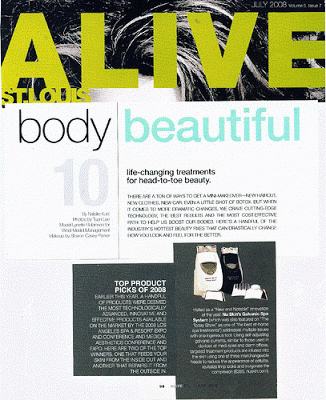 Galvanic Facial Spa
This revolutionary home treatment will enhance your anti-ageing skincare regime by increasing absorption of nutrients into your skin by up to 5 times so you can start to feel your skin being smoother and see it looking younger in no time at all.
It takes less than 10 minutes but the benefits of one treatment last up to 24 hours.
apply the pre-treatment gel

pre-treat with spa for 2 minutes

apply the treatment gel

treat with spa for 3 minutes
How does it work?
The pre-treatment gel, which contains sea kelp, marigold and vanilla, is negatively charged and it acts to remove impurities and soothe and condition the skin. the Galvanic current for pre-treatment is negative so, as like charges repel, the gel is pushed into the skin.
The treatment gel contains arginine and magnesium which facilitates the skin's recovery from stress and promotes cellular energy respectively as well as a proprietary ageLOC blend which targets ageing at the very source, resetting gene expression to its youthful state, so your cells return to operating like they did years ago and you look like you did in your prime (or better) - and don't you just love those compliments about how good you're looking.
The treatment gel is positively charged and the corresponding Galvanic treatment charge is positive, so the treatment gel is pushed into the skin and the pre-treatment gel is pulled out, so removing impurities. Genius!
Galvanic Body Spa
Bye bye cellulite. The galvanic body spa works in a similar way to the facial spa but is 10 times more powerful at facilitating absorption of ingredients into the skin. It is ideal for targeting areas where there is increased body fat and where cellulite tends to appear so you can have a more toned and youthful looking body.
Areas particularly targeted are:
upper arms

thighs

buttocks

abdomen
The body shaping gel contains
a proprietary ageLOC blend which targets supermarkers at the source of ageing

Laminaria digitata which is from the sea kelp family and helps increase fat breakdown and has been shown to increase the extracellular skin matrix for smoother, more toned looking skin

Theobromine which is a cocoa extract and this inhibits an enzyme in fat cells which leads to a breakdown in fat for a smoother, more contoured skin appearance
To find out more or to order
To buy or to get more information, including pricing, go back to the person who directed you to this site or complete the form below. Include your country so we know which currency to quote.