ageLOC Me
A customised skincare system, so you can be the best you, that's creating a global buzz
AgeLOC Me is an innovative skin care product that uses revolutionary technology to deliver customised skincare so your lotions and potions are matched for your skin type, your lifestyle, your skin issues and your preferences rather than a one-size fits all approach that is the norm for skin care.
This award winning skin care system will deliver what you need, when you need it, in the right amount, every time to give you consistent results efficiently so you can free up valuable time from your busy day yet still enjoy the results of a sophisticated skin care regime. It's ideal for busy people who want excellent results but want skin care to be quick, easy and value for money.
And it's creating a global media frenzy because this really is the future of skincare. ageLOC me has won countless awards, including winning the international Good Design Award at the Chicago Athenaeum Museum of Architecture and Designin 2015 and Best New Premium Skincare Product at the October 2016 Pure Beauty Awards in London to name just a few.
And, as the name suggests, these products use ageLOC technology to turn back time at the cellular level. If you want to hear more about this, I explain in a video below - it's the sciency stuff but in everyday language - click here.
Lotions and potions that act at the source of aging
Many skincare products act on the signs of aging - the lines, the wrinkles, the age spots etc. But the ageLOC brand uses 30 years of research on the genetics of aging to actually target aging at the source - resetting gene activity to the youthful state.
As an example, when you were young, your genes associated with collagen production were very active and those associated with collagen break-down were relatively inactive. Then time passed and things changed and almost reversed meaning less collagen and so more sagging and lines on the face. And this process starts in your mid-late 20's. ageLOC products have been tested and shown to reset the gene expression back to the youthful state.
I know what you're thinking - that this is too good to be true, but the science behind ageLOC is sound and backed by valid research. And this science is exclusive to ageLOC, so anti-aging products are not created equally.
To learn more about the research that supports this state-of-art skincare, click here. To hear about the science in everyday language, click here.
Results that speak for themselves
What can you expect from ageLOC me
reduced appearance of lines and wrinkles
improved skin smoothness
firmer skin
more radiant skin
less skin spots
more even skin tone
smaller pores
Yes all of these results have been have been described in more than 90% of participants in clinical trials(100% for skin smoothness)
See for yourself in this gallery - some of these are after just one use and the longest use in the before and after photos is 60 days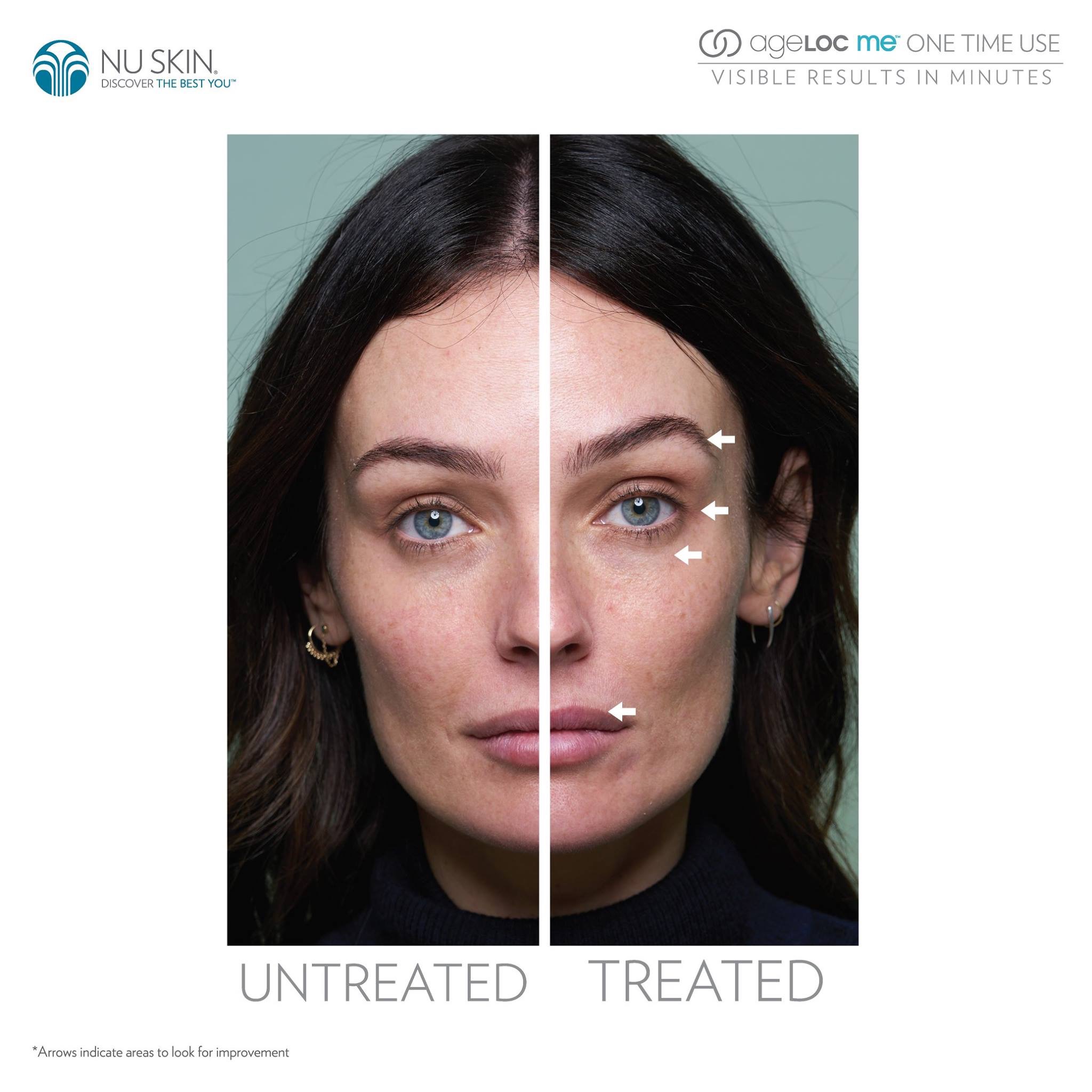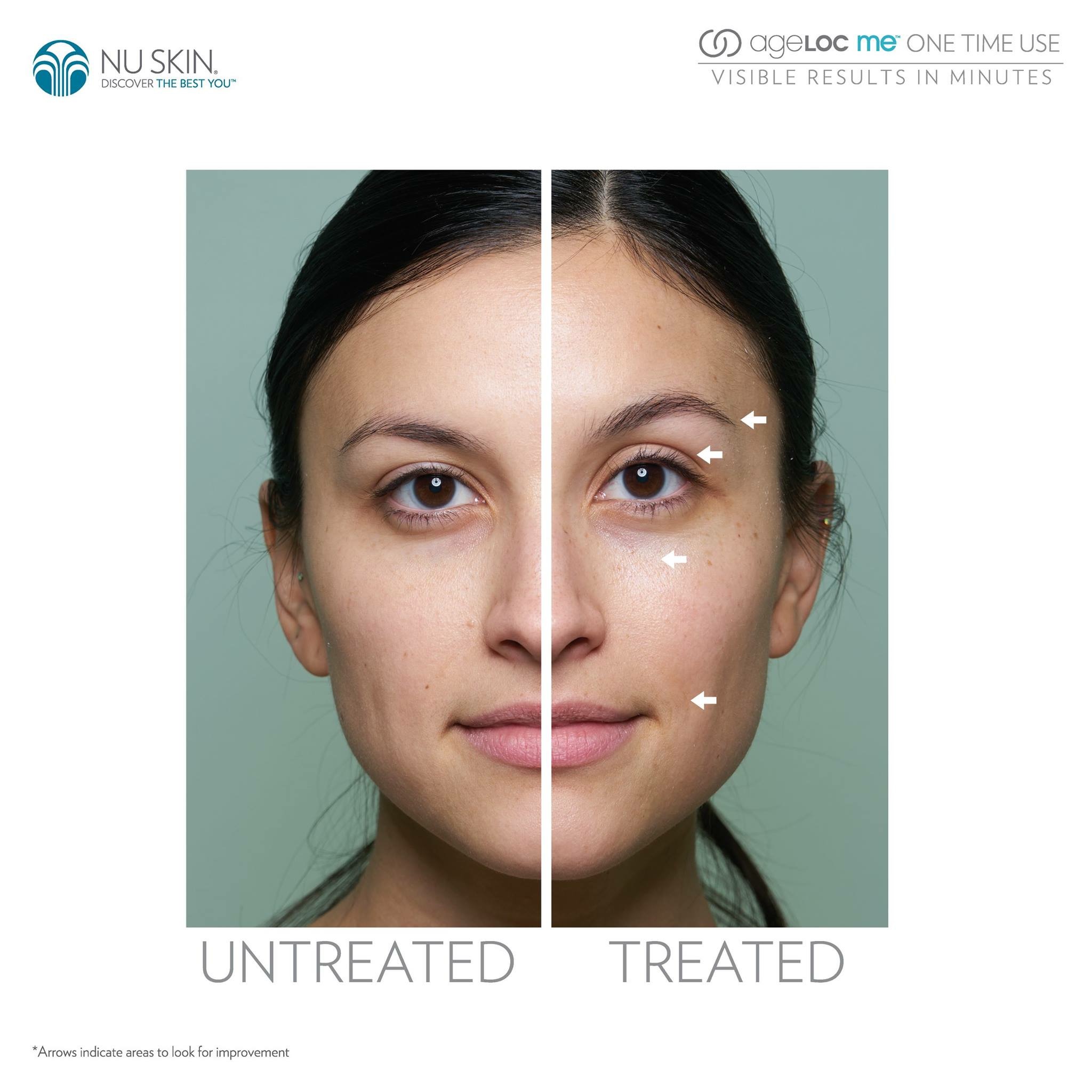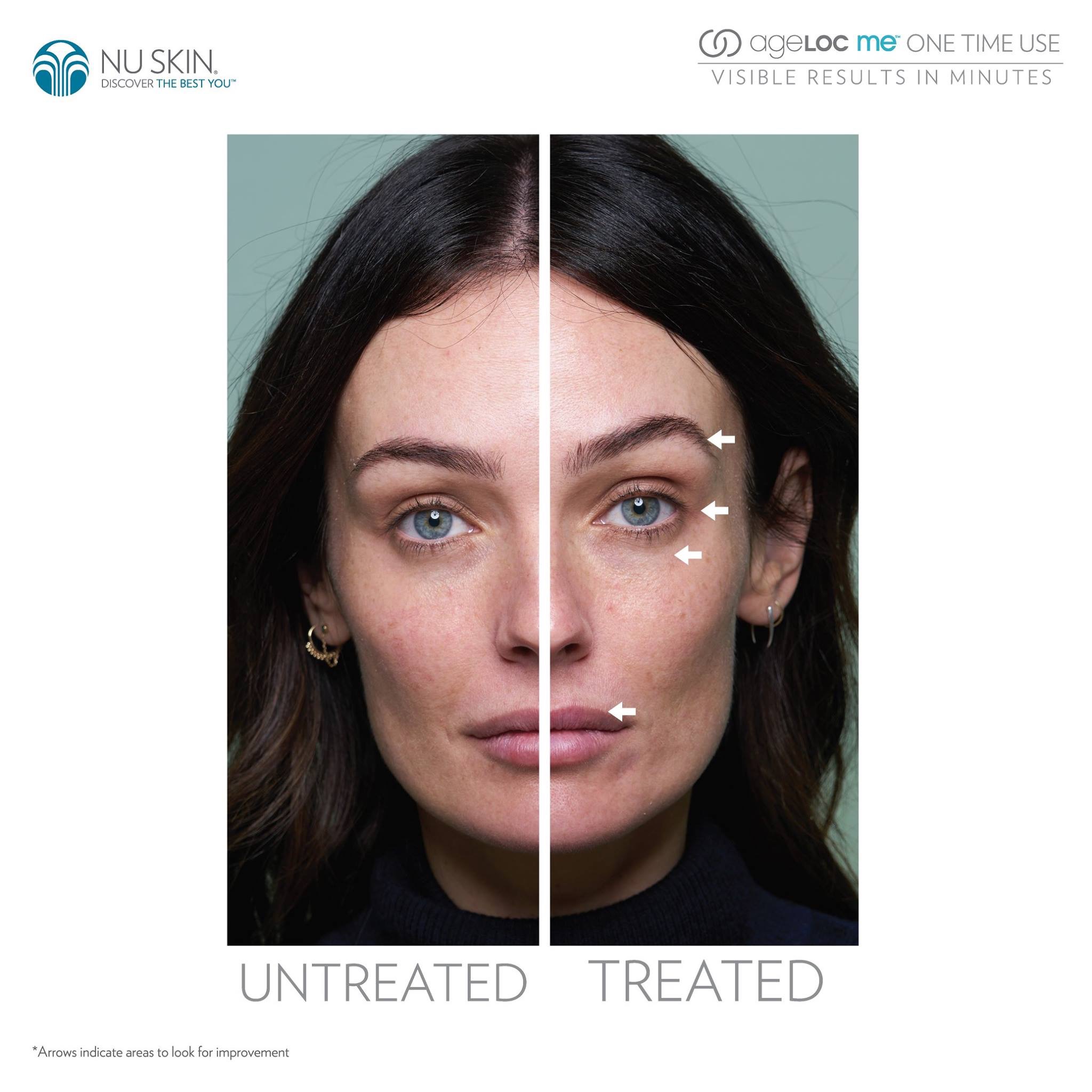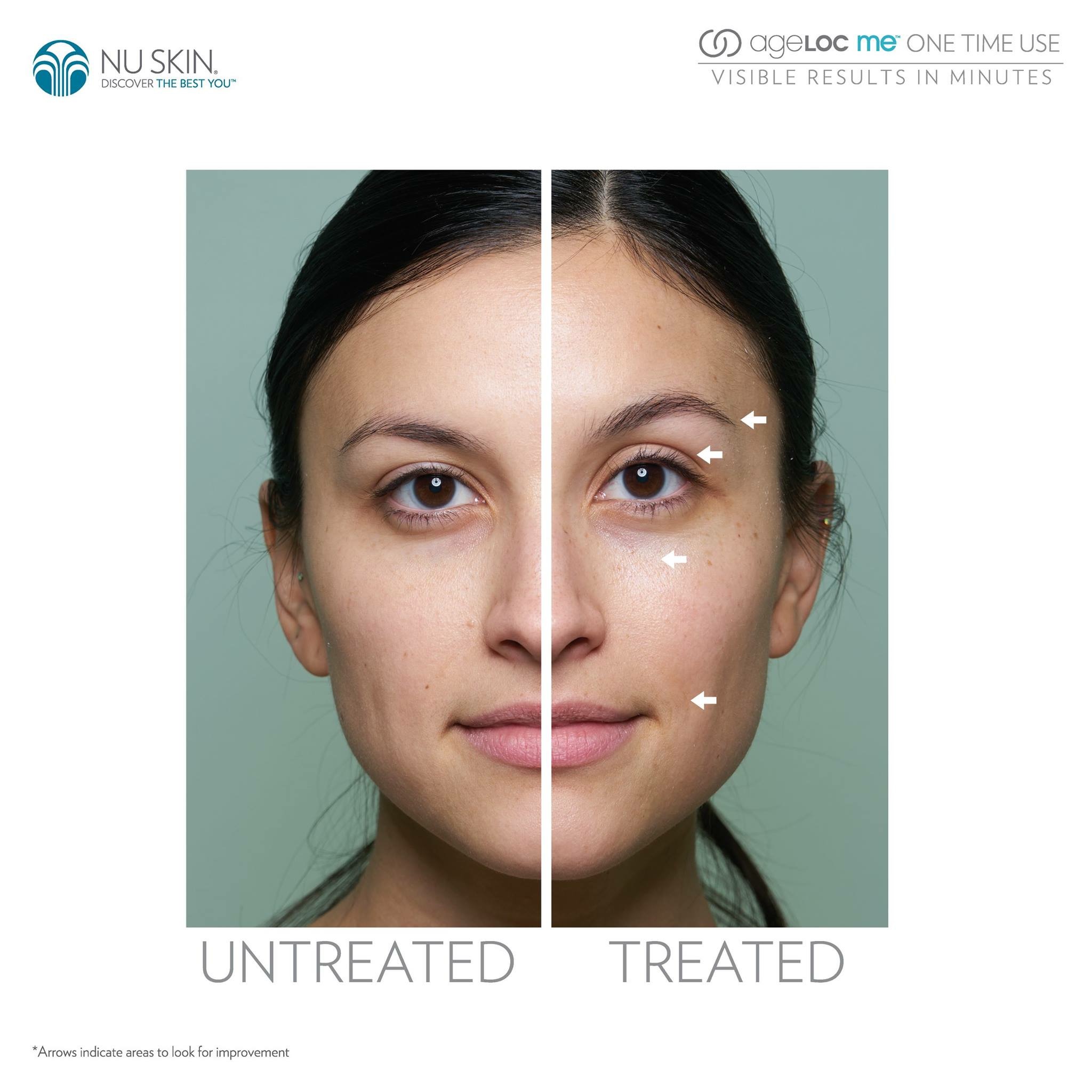 How do you use ageLOC me?
Just cleanse your face with the ageLOC gentle cleanse and tone (all in one product) and then your AgeLOC Me will deliver your serum - actually your choice of 3 serums mixed at the time of delivery - and then either your day cream (with SPF if that is your preference) or night cream. No more dipping fingers in the pots, just hold your hand under the device for delivery.
You choose the serums based on what your problems are - fine lines, age spot, sun damage etc. There is an assessment tool (that's an app on your smartphone) that's very cool which takes you through the process to come up with your 'prescription'. And you can modify your prescription for the next month depending on your results. Plus it takes into account where you live and your skin type based on ethnicity. There are over 2000 possible combinations so you will be getting a unique regime just right for YOU.
Oh yes, and it's delivered monthly in air-tight cartridges which means:
no more bugs from your fingers contaminating your lotions
ingredients that would be unstable in a jar (being opened and exposed to the atmosphere) can now be used
ingredients can be used at higher concentrations as they are more stable in a vacuum
3 separate serums mixed at the time of delivery gives greater flexibility as those ingredients may be unstable if mixed beforehand
the micro-layering technology means that the serums are absorbed 3 times more deeply into the dermis
What we love about ageLOC me
Watch this video to see why I think my ageLOC me is AMAZING :-)
So say good bye to your bathroom being filled with bottles and jars; hello to the sleek design-awarded AgeLOC Me.
See it in action in this video
Lauded around the world, as these images show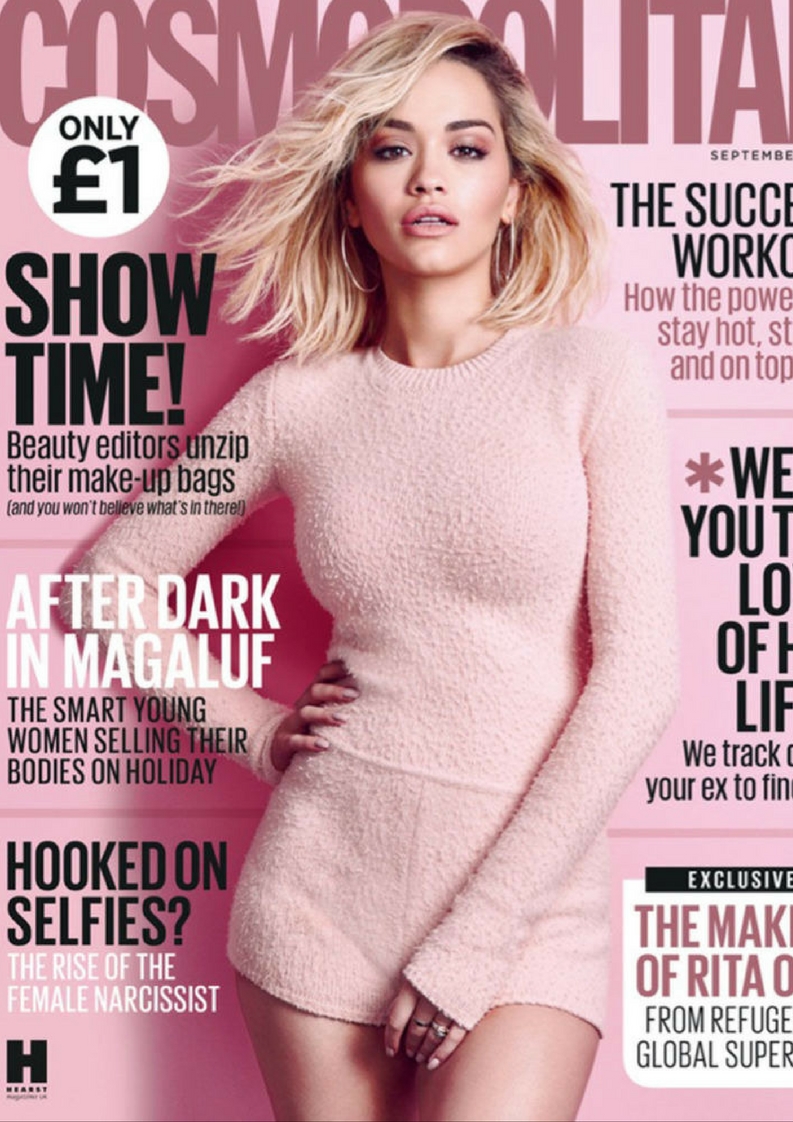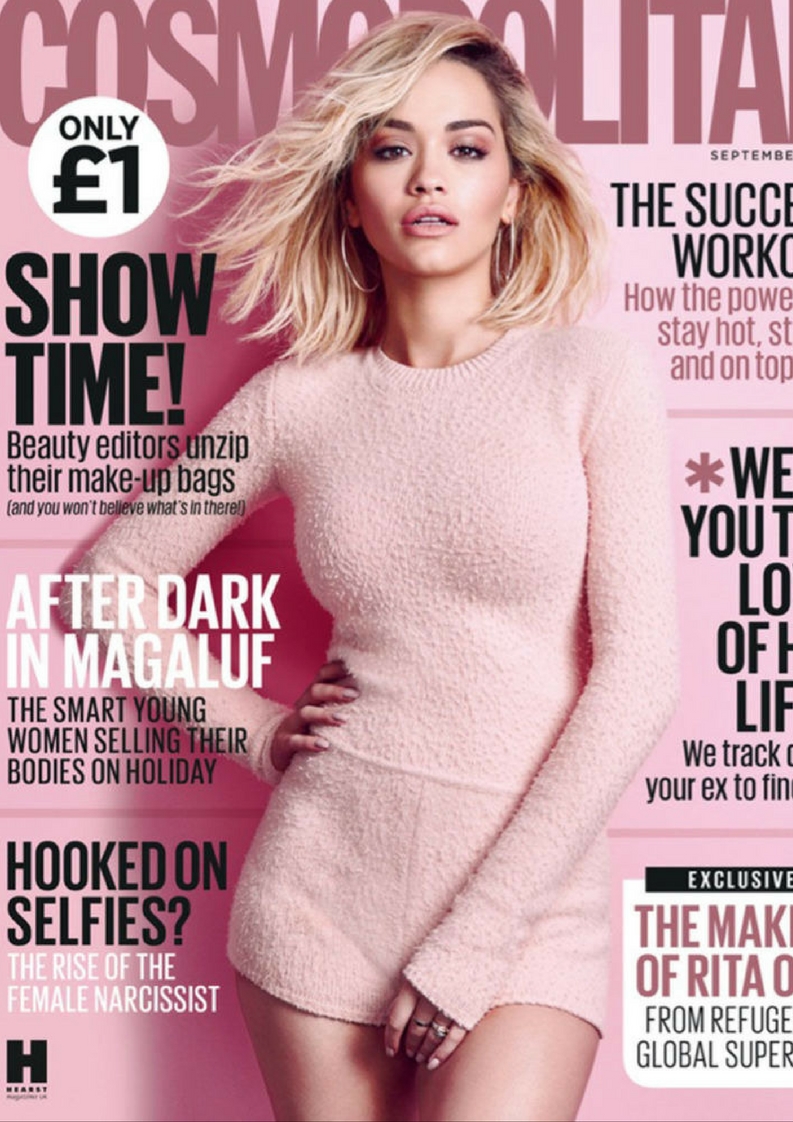 Get Rewarded
Once you have set up your automatic delivery for your ageLOC me cartridges so they are delivered to your door every month, you will also start accumulating reward points. Make sure when you go through your assessment on the phone app, that you click 'Add to ADR' cart when you order to benefit from the reward points.
Does your current skincare regime reward you and give you the opportunity to get free products?
After the first order has delivered, you will see your reward points under your order - to see how to do this, view the video on our HOW TO page.
Science stuff - how ageLOC technology turns back time
Find out how you can get your own ageLOC me?
To buy or to get more information, including pricing, go back to the person who directed you to this site or complete the form below. Include your country so we know which currency to quote.